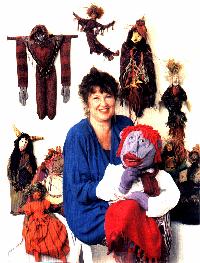 BARBARA KOBE - dates to be announced
Barbara, from Crystal, Minnesota, has been making art dolls, therapeutic dolls and puppets for over twenty years. She has a BA in psychology, is a student of art therapy and has over twenty years experience as a graphic artist. She is a creativity and expressive arts coach. She is an expert at using a variety of materials to create shape, color, textures and moods for her dolls, which evoke feelings of mystery and awe. People say her dolls are very expressive and full of emotion. She says that is her intention as well as the creation of an image that has the potential to nurture personal growth and healing. She recently began exploring Mixed Media Art and Visual Journaling and loves the way she can create a healing image in even more deep and playful ways.
Access her web sites at:
www.barbkobe.com
www.healingandtransformativedolls.com
Rick Petersen - dates to be announced
Rick Petersen, a graduate of Minneapolis College of Art and Design, is a gardener, graphic artist and dollmaker. He is currently the Creative Director of Advertising for Bachmans. He says that dollmaking satisfies, comforts and helps him work out life's ups and downs. Most of all it makes him smile!

His imagination, creativity and love for nature is evident in his designs for both gardening and doll making, which he is able to combine in this Fairy Garden Workshop. He coauthored the book, The Complete Photo Guide to Dollmaking, published in 2010. He is a popular creative teacher in the Minneapolis/St. Paul area, teaching at local quilt shops and quilting events. He loves the challenge of using found objects and repurposing them to make small landscapes and homes for his garden friends. His doll, Ascending to Myself, was in the premier issue of Art Doll Quarterly.